Triple Axis Magnet STM
Research on magnetic nanostructures often calls for an application of external magnetic fields. So, in recent years, many new STM systems dedicated to spin-polarized experiments were equipped with superconducting magnets. The vast majority of these instruments allow to apply magnetic fields perpendicular to the sample plane. However, the restriction to just one field direction can be a serious limitation.
In 2008, therefore, we launched an STM system operated in the center of unique vector magnet inside a bath cryostat. Tip and sample temperature is 4.7 K. Base pressure is in the low 10-11mbar range.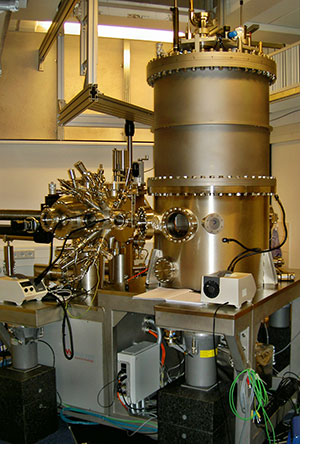 Low-temperature UHV spin-polarized STM in a 3D-vector magnet



A low-temperature spin-polarized scanning
tunneling microscope operating in a fully
rotatable magnetic field,
S. Meckler, M. Gyamfi, O. Pietzsch,
R. Wiesendanger,
Rev. Sci. Instr. 80 023708 (2009).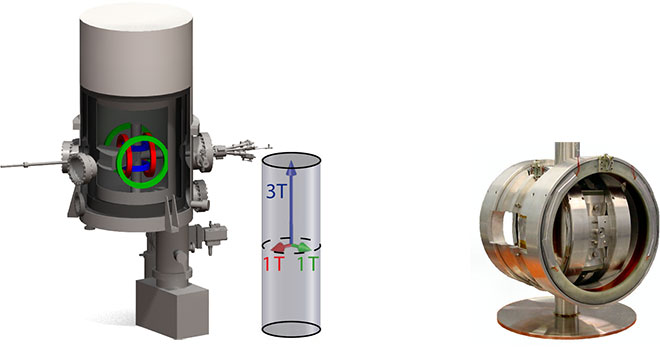 Figure Left: Schematics of the vector magnet. Three pairs of superconducting coils nested in an orthogonal arrangement can generate a field of 1 Tesla freely rotatable in any desired direction. The field vector spans a cylindrical volume of |Bx,y|=1 T, |Bz|=3 T in cooperative mode. In single axis mode, fields up to |Bx,y|=1.3 T, |Bz|=5 T can be achieved. Right: Magnet design by Scientific Magnetics.


STM head on its pedestal
The STM body is made from bronze (gold plated). The pedestal is OFHC copper. Its base flange is rigidly mounted to the bottom of the LHe reservoir. All leads are thermally anchored over a length of 130 mm to the massive copper rod for effective cooling. This warrants a measurement temperature of 4.7 K. The tip is approached from the bottom side, using a stick-slip coarse positioning motor. The sample receptacle is rotatable, allowing to expose the sample surface to a three-cell evaporator located at the back side of the STM chamber. Thus, single adsorbate atoms can be deposited on the cold sample surface.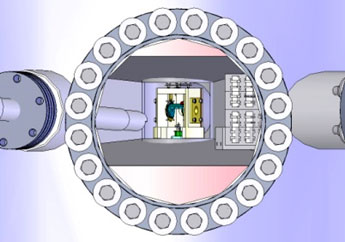 System overview
The system consists of three UHV chambers for sample preparation, MBE growth of magnetic nanostructures, and STM measurements. Surface science techniques include facilities for sample/tip treatment by resistive and electron bombardment heating, ion source for sputtering, LEED/Auger electron optics, and several evaporators for sub-monolayer thin film deposition at sample temperatures T between 100 K < T < 1000 K. STM tips can be coated with magnetic thin films for spin-polarized measurements. The bench carrying the chambers rests on four air springs for effective vibrational damping.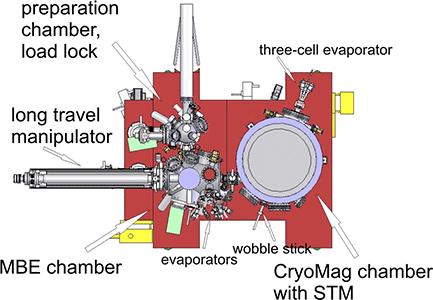 The manipulator in the MBE chamber has a custom designed head consisting of a heating and a cooling stage, both accommodating samples as well as tip transporters. Annealing temperatures up to 1000 K can be achieved. However, one can also cool down the sample to 100 K if, e.g., suppression of certain diffusion processes is desired. A manipulator travel of 800 mm allows carrying sample or tip all the way into the CryoMag chamber, right in front of the STM where it can be grabbed with a wobble stick.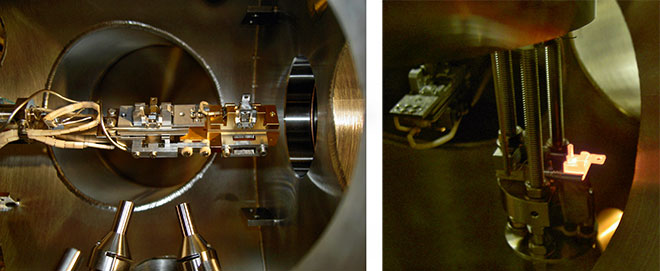 Read more: Inhomogeneous spin spiral in stripes of double-layer Fe on stepped W(110)